Areas of Research- Advanced materials and applications
Research Guide:  Dr  Nandakumar Kalarikkal
Research Areas:
Synthesis, Characterization & Applications   Of  Various Nanomaterials
Laser Plasma
Ion beam irradiation effects & Phase transitions
Nanoferroelectrics
Nanoferrites And Nanomultiferroics
Nanosemiconductors and Nanophosphors
Nanocomposites
Nanosensors
Nanomaterials: Current research interests of the group include synthesis and characterization of various systems such as Quantum dots, Nano-magnetic semiconductors,   Nano-ferroelectric ceramics, Nano-luminescent materials, Nano ferrites and Nanomultiferroics.  The group, headed by  Dr. Nandakumar Kalarikkal, is also investigating the heavy ion irradiation effects on various physical properties of these systems in detail in collaboration with Nuclear Science Center, New Delhi and UGC-DAE CSR Kolkata Centre. The group has currently started works on various nanocomposite systems for device applications.  The group has active research collaborations with Bhabha Atomic Research Centre (BARC), Mumbai for neutron scattering studies, Raman Research Institute (RRI), Bangalore for nonlinear optical and plasma related investigations and Jawaharlal Nehru Centre for Advanced Scientific Research (JNCASR), Bangalore.  The group has initiated research collaborations with Hong Kong University, Hong Kong for wave guide applications of some of the nanomaterials.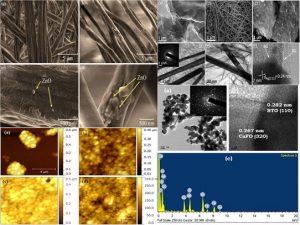 Nanoferrites and Nanomultiferroics: Research in this field includes synthesis and characterization of selected nano- ferrites and nano-multiferroic materials. The sol-gel synthesis technique has been employed for the preparation of these materials using different chelating agents.  The aim is to prepare systems with different particle sizes and investigate the size effect on the structural and various physical properties. Systems such as Ni-Ferrites, Ni-Zn: Zn-Co: and Ni-Co: ferrites have successfully been synthesized with varying particle sizes and their various physical properties have been investigated. Among the nano multiferroic group, we have successfully used the sol-gel technique to prepare YCrO3 and YFe2O4 systems using different chelating agents and some of the chelating agents have shown good size distribution which has not been explored by anyone else so far.  We are in the process of characterizing these materials.  We are also in the process of preparing rare-earth based multiferroic materials.  Various experimental techniques such as XRD, FTIR, TGA/DTA, SEM, TEM, VSM, Dielectric and Resistivity measurements are in extensive use for characterizing the as prepared systems.